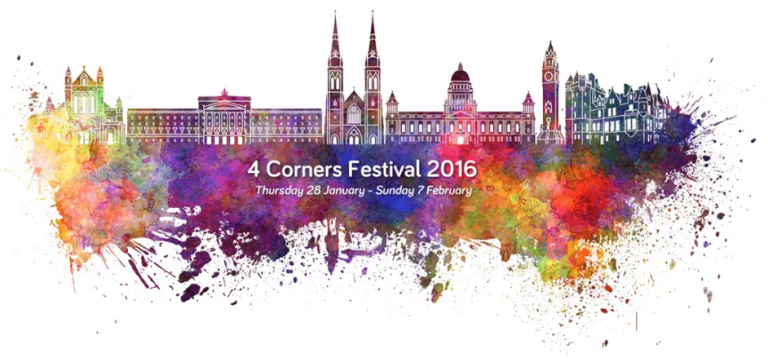 FROM SYRIA… WITH GRACE
Thursday January 28th at 7.15pm | Belfast City Hall
How can the Belfast Churches respond to the Refugee Crisis? We join Embrace for an evening of information and inspiration.
4 CORNERS PRAYER BREAKFAST
Friday January 29th at 8am – Agape Centre, Lisburn Road
A breakfast to listen and pray for the business community of Belfast. Key business people will be sharing their experiences on the theme of trust.
NUA AT CLONARD MONASTERY
FRIDAY 29h January at 7.30pm | Clonard Monastery
A night of creative prayer and story-telling in a prophetic flow of worship. This will be the launch event of 100 Days of Prayer for 100 years of History.
4 CORNERS FESTIVAL CHURCHES WALK Saturday the 30th at 2.30pm | Starting at St George's, High Street
St George's, High Street (Church of Ireland) at 2.30pm. From St George's we will proceed to First Belfast Presbyterian Church in Rosemary Street (Non- subscribing Presbyterian). Then we will walk to St Mary's, Chapel Lane (Roman Catholic) and, finally, make our way to Sandy Row Methodist Church. In each church we will be welcomed by the Minister or a parishioner who will tell us about the life and ministry of that congregation. We expect to spend about 20 minutes in each church, so, with the time for walking, the event should last about two and a half hours.
THE ART OF LISTENING; BBC MORNING SERVICE
SUNDAY JANUARY 31st at 10.15am Fitzroy Church, University St
4 Corners Festival hosts the BBC Morning service. Speaker will be Rev Heather Morris.
CAPTURED BY A VISION
MONDAY FEBRUARY 1st at 7.30pm St Patrick's Church, Donegal Street
Rev Dr Ken Newell shares some of his, soon to be published, Memoir and his journey from sectarian to peacemaker. Stories will reveal how appropriate a venue St. Patrick's is.
VOICES OF A NEW BELFAST
Tuesday February 2nd at 7:30pm | Youth Initiatives West Belfast Youthwork Centre, 50 Colin Road, Poleglass
Youth Initiatives West Belfast Youthwork Centre, 50 Colin Road, Poleglass, A showing of the award-winning Belfast film charity, ESC's documentary film that has captured the real stories of various people who have come to live in Belfast over the past number of years.
TALKING ABOUT… RELIGION: IS ANYBODY LISTENING Wednesday FEBRUARY 3rd at 6:45pm | Ulster Museum
We will be exploring how religion is reflected in the BBC's output. Hosted by William Crawley in conversation with Caroline Wyatt, the BBC's Religious Affairs Correspondent, Roger Bolton, of BBC Radio 4's Feedback programme, Bert Tosh, formerly Head of Religion with BBC Northern Ireland and Aaqil Ahmed, the BBC's Head of Religion and Ethics.
4 CORNERS FESTIVAL BANQUET
Wednesday February 3rd at 6 PM | Belfast City Hall
The now annual Banquet in City Hall. This year it is for those living in the City's interfaces.
STORMONT HOUSE RULES
Thursday February 4th at 7:30PM | Duncairn Centre
A heated play dialogue about 1916 written by Philip Orr. A companion play to his other play about 1916 Half Way House.
SPEAK UP
LET THEM SPEAK LISTENING TO OUR YOUNG LEADERS
Friday 5th February at 11am | Ulster University
A gathering of students from Belfast schools tell us what they think of the city and its future.
MORE THAN A FLAG
Friday February 5th at 7:30pm | The Long Room, Stormont
A showing of the BBC True North Documentary about loyalist bandsmen from East Belfast. We will also hear from playwright Dan Gordon and some of the bandsmen who feature in the programme.
LISTENING TO THE CITY
Saturday 6th February at 2:30pm | Girdwood Community Hub
For more than 100 years, artists, writers and other wanderers have practised the art of walking in cities, from Baudelaire and Thomas de Quincey to lain Sinclair, Peter Ackroyd and Will Self. Exploring the urban environment on foot, we discover new perspectives, cross boundaries (visible and invisible), find hidden histories and a gain a fresh understanding of a city and its people. Psychogeography inspires many artists, writers and musicians working today. This event will bring together locals and others who have wandered the streets of Belfast. What can we learn about a city by listening to our feet?
People taking part:
Garrett Carr, novelist and map-maker based in Belfast.

Kate Trenery, photographer, writer and creator of the project 'Walking Walls'

Allan Leonard, blogger and director of the Northern Ireland Foundation • Susan Mansfield, writer, wanderer and creator of Passion Walk Belfast
SONGS OF THE CITY
Saturday February 6th at 7:30pm | Duncairn Centre
A stunning night of songs by some of Belfast's current crop of talented songwriters and covers of songs about the city. Jamie Neish, Aaron Boyd, Hannah McPhillimy, Katharine Philippa, Chris Wilson and more to be confirmed…
DREAMERS AND VISIONARIES SHARE DREAMS AND VISIONS 
Sunday 7th February at 7pm | St Nicholas Church, Lisburn Road
We end the festival with some of our visionaries sharing their dreams about how we move into the future. Expect poetry and songs and the winner of our School's Art Competition.