Dreams... Visions For Belfast
4 Corners 2023 – Dreams… Visions for Belfast Programme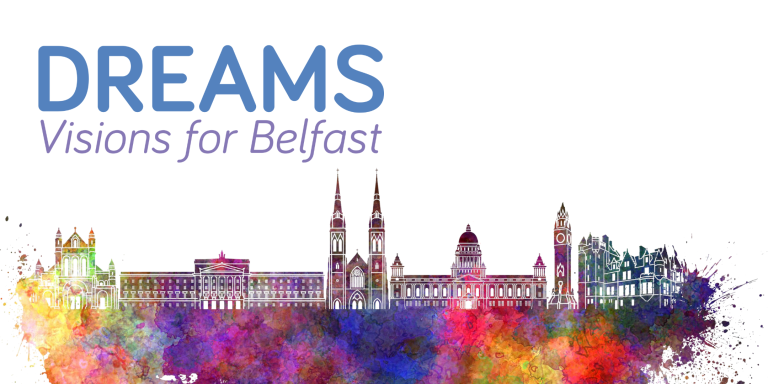 4 Corners Festival 2023
In 2023 it is 60 years since Rev Dr Martin Luther King's astonishing I Have A Dream speech in Washington DC when he articulated a vision for a better, more just, America. 2023 also sees us in Northern Ireland celebrating 25 years since the referendum when 71% of us in the north endorsed the Good Friday Agreement and dreamed of a better future for us all.
4 Corners Festival 2023 was an opportunity for us to listen to our dreams. From Church leaders, to women in leadership to young loyalists to the homeless to artists we heard the dreams and visions for a better Belfast.
Here's what happened…
Weeklong events: 29th January – 5th February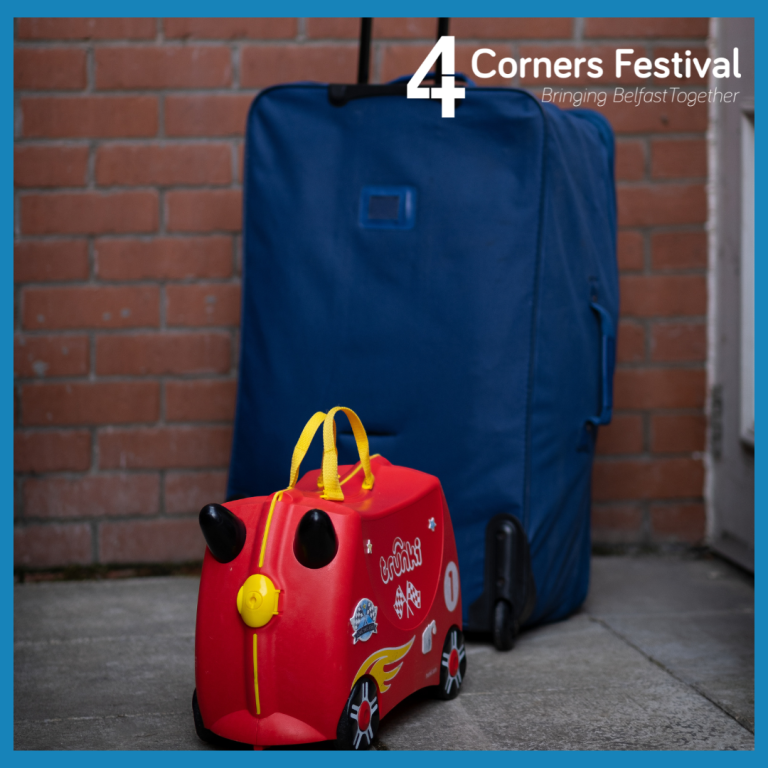 Never In My Wildest Dreams
Photo Exhibition
A picture speaks a thousand words. And it is time we started speaking more openly about the scourge of homelessness in Belfast city and beyond. For over 10 years the Westcourt Centre has worked to highlight the issue of Homelessness as part of its 'Still Somebody – Voices for Change' initiative. Members of the Westcourt Centre Camera Club have worked alongside residents in supported accommodation in Rosemount House to produce a photographic exhibition which aims to increase awareness of and encourage discussion around the grim reality of homelessness in our city. No one dreams that they will end up homeless. The images are powerful, evocative and speak the truth about the issues that force people into homelessness. These images highlight the scale and scope of the problem here, show that it can happen to anyone and draw attention to some of the circumstances and reasons why people can become homeless.
https://www.youtube.com/watch?v=vpDaeiI5jS4
Nightprayer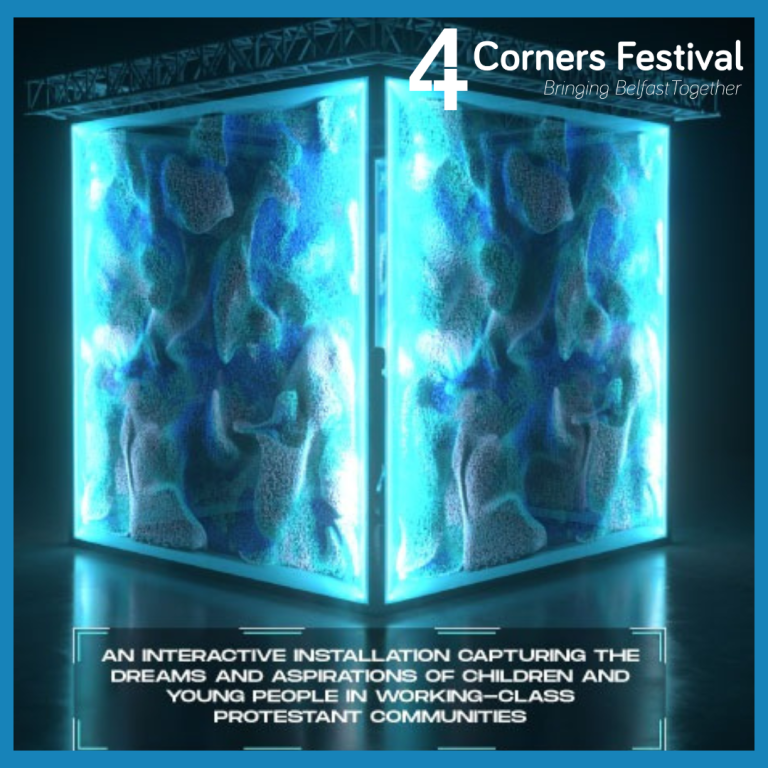 Led by Rev Kiran Young Wimberly and Jim Deeds each night of the festival online with a mix of contemplation, music and scripture, reflecting on the day that's been and on the events in the festival.
Present Future
Present Future is an immersive video and audio installation which explores themes of dreams, aspirations and leadership from the perspective of children and young people in PUL communities in Northern Ireland.
The installation involved the creation of a purpose-built video cube that streamed immersive video, audio and graphics.
Friday 27th January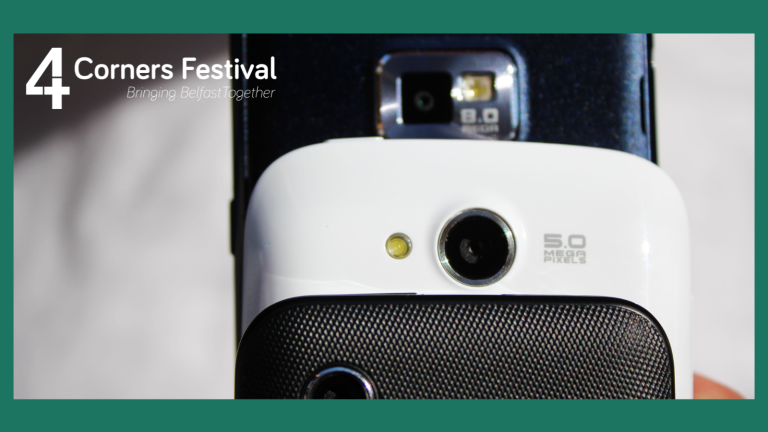 Sixth form students from across Belfast gathered at the Ulster University Belfast campus to explore dreams for themselves and the city.
Award-winning photographer Mal McCann (Irish News) led a workshop in smartphone photography before the students worked in groups to capture images that represent their collective vision for Belfast.
Sunday 29th January
Dreaming God's Dream – Walking the Path Together
Julieann Moran, the General Secretary of the Synodal Pathway in Ireland spoke from her experience about how we can take steps – within and beyond the Catholic Church – to dream God's dream together. 
https://www.youtube.com/watch?v=-caNga6p6v0
 Monday 30th January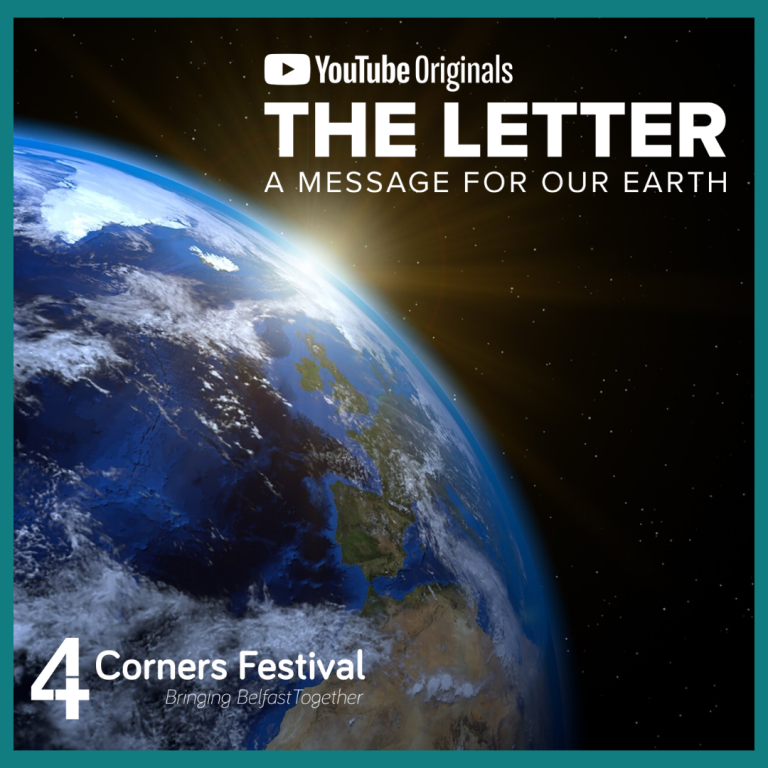 The Letter: Dreams of Global Change
"The Letter" is a film documentary which starts with a personal letter and invitation from Pope Francis to 5 climate activists from different parts of the globe to enable their voices to be listened to as we face together the climate emergency we are all facing today.
It's a film about seeking an integral ecology and to seek healing for our damaged planet. In whichever corner of the city we live in our responsibility as citizens of the world calls us to act at different levels- in the home-in our schools-in our politics -in our communities. "The Letter "brings together the different dimensions of the crisis: it is not only about science or politics.
"A sense of family emerged at the end of this project," says Dr. Lorna Gold, one of the protagonists of The Letter. This same feeling is transmitted on the screen and we end up knowing we are part of a large human and planetary family. Climate justice is not just a newspaper heading. It's something concerning you and me. This gives us the strength to go through the crisis together! We can bring about a revolution of love for one another and for all of creation and have hope for the future.
Tuesday 31st January
We Have A Dream: Role Of Women In Peacebuilding
Róísín Brown PSNI; Dr Maria-Adriana Deiana, Queen's University; Eileen Weir, Shankill Women's Centre; and Emma De Sousa, campaigner and writer, explore the barriers to women's peacebuilding in Northern Ireland. The discussion was moderated by Professor Gladys Ganiel, Queen's University.
https://www.youtube.com/watch?v=FjXraJwVF_o
Wednesday 1st February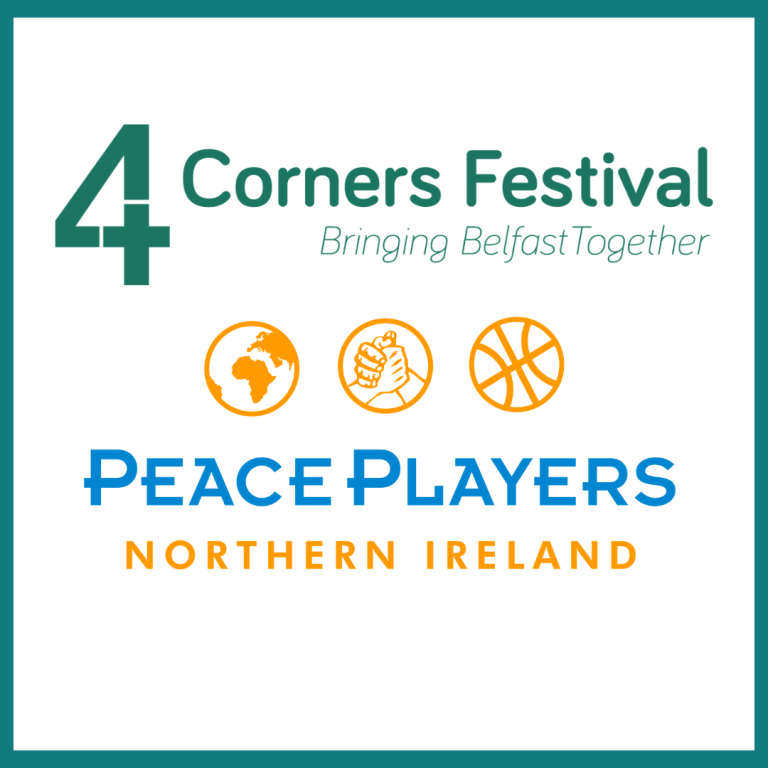 Game of Three Halves
Young people aged 11-14 attended evening of sports and team activities delivered in partnership with PeacePlayers – NI. Participants played GAA, soccer and rugby in integrated teams from across Belfast. Peace Players Coaches led participants to consider their individual and collective dreams for the future and develop tools that will help them to work positively towards these dreams.
The Grief Of Dreams Unrealised
Karen Jardine, Sara-Louise Martin, Emily Nelson and Gordon McDade spoke about their stories about a dream that has gone unrealised – and the lessons they've learned while grieving that dream.
https://www.youtube.com/watch?v=etYAF5JHfyw
Thursday 2nd February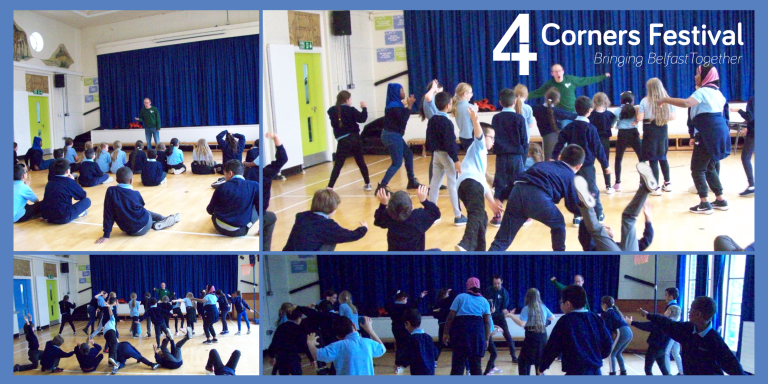 Dream Makers
Primary school children from all over Belfast (with a little help from Play it by Ear Drama Company) took us on a magical journey through the weird and wonderful world of dreams.
David Goodwin in Conversation with Mark Simpson
BBC's Mark Simpson interviewed captain of the Belfast Giants ice hockey team David Goodwin to talk about his own dreams as a sportsman and as a captain of the team in a specific place.
https://www.youtube.com/watch?v=GXtFMAOzA5k
Friday 3rd February
In Conversation with Dana Masters
Dana Masters spoke about Civil Rights and its impact on America as well as the families of its leaders. She also discussed her love for food, a home in the Northern Irish landscape, culture and church.
https://www.youtube.com/watch?v=od8b0F5hv7M
Saturday 4th February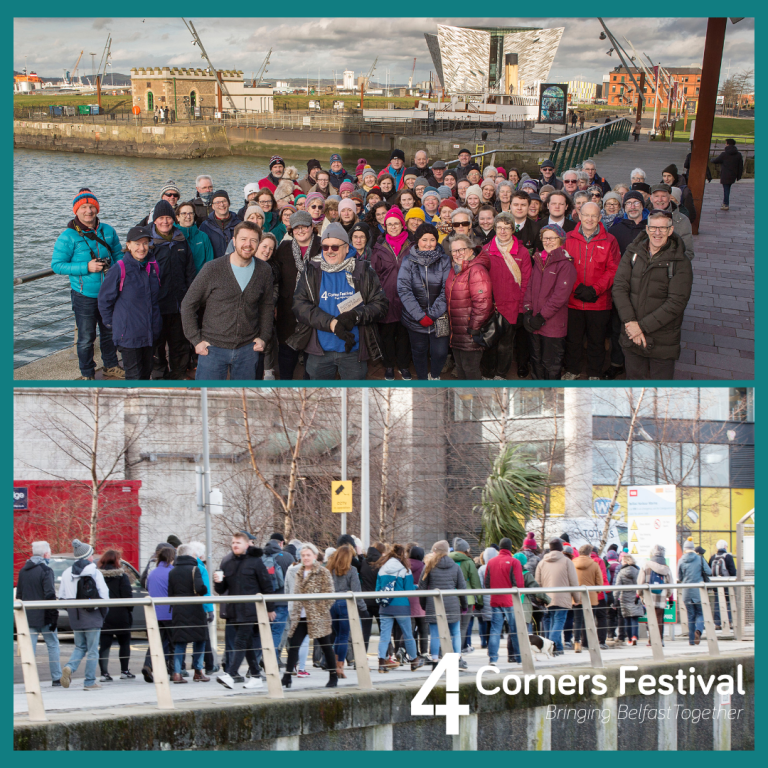 Wonderful Wander
A fixture in our programme, this year's wander found us circling the city centre, and exploring some of the political and religious history of our wonderful and wounded Belfast.
It may not be a city of "dreaming spires" as the poet Matthew Arnold described Oxford, but as we walked its streets and chatted together we again used poetry and other reflections to help us see our city through different eyes.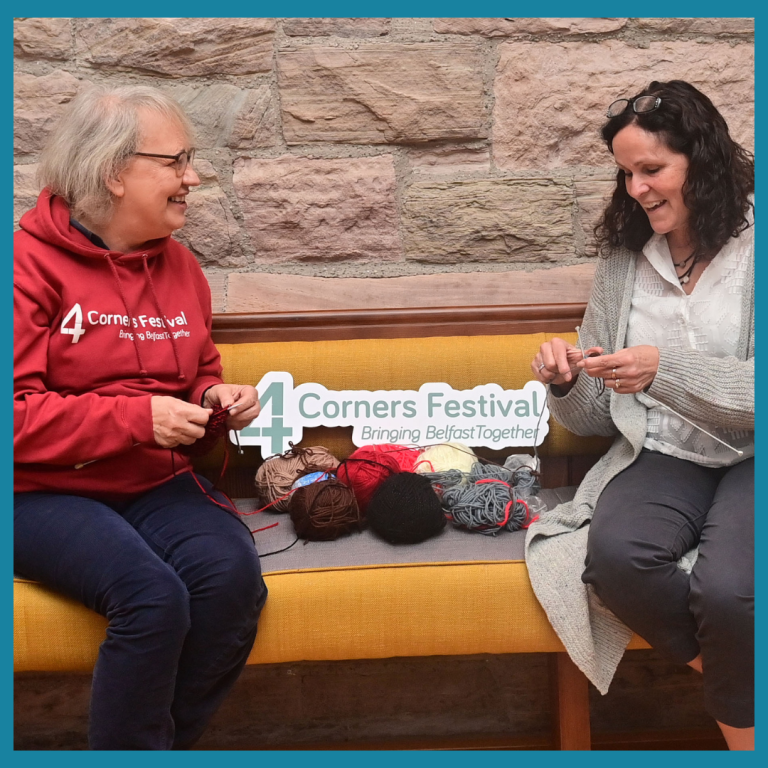 Knitting 4 Corners Together
Knitters and craft lovers joined together once more for an afternoon of chat and creativity as we found common ground in our shared enjoyment of the art of knitting. This was our fourth year of knitting together with some newcomers in attendance.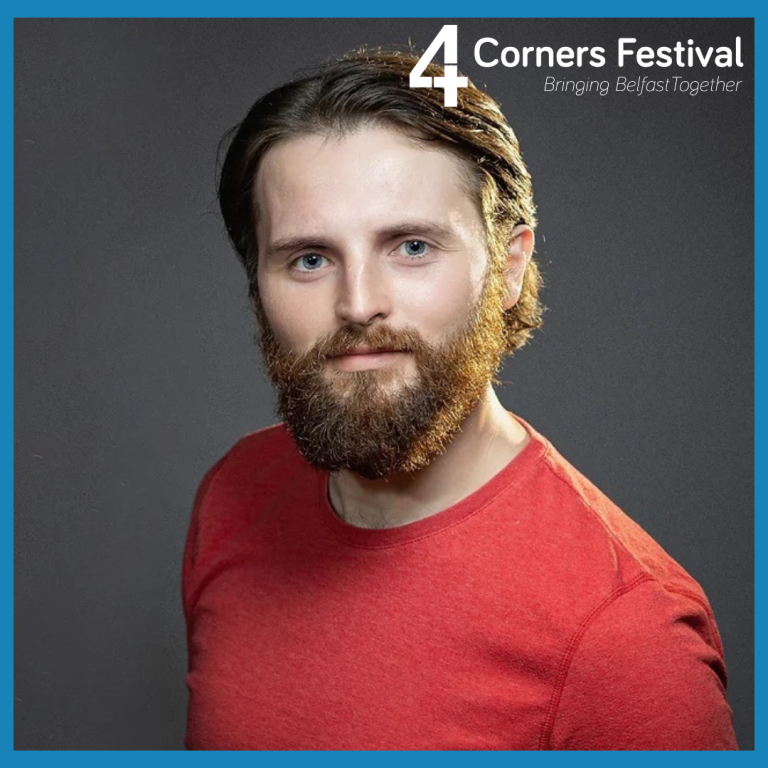 A Farther Shore
A one person play by David A. Campton directed by Trevor Gill of Bright Umbrella and performed by Glenn McGivern.
A Farther Shore is a re-telling of Biblical stories, this time through the eyes of Simon Peter. We find him in Joppa harbour after a disconcerting dream, reflecting on the journey he has travelled since an encounter with Jesus on the shore of the Sea of Galilee, and where that journey may yet lead him. What are the implications of his dream for him, for the church in its infancy and even for us as we contemplate uncertain seas and consider what lies beyond the horizon?
Sunday 5th February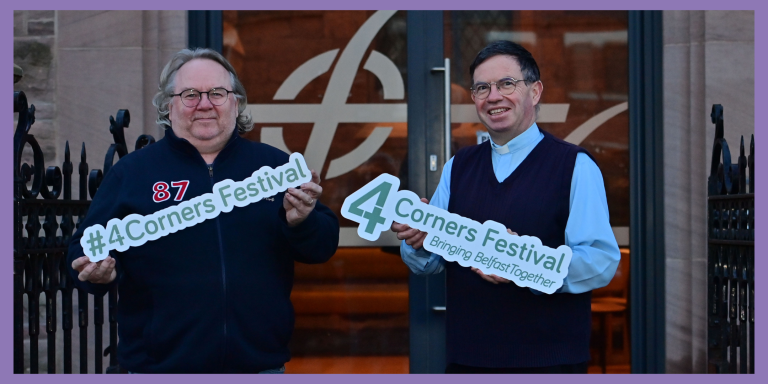 Morning Service
This year's annual 4 Corners Festival broadcast service on BBC Radio Ulster looked Biblically at the Festival theme. Preacher Paul Lutton the assistant minister in Kirkpatrick Presbyterian Church preached from Joel and Acts about the Biblical idea of dreams and visions and lead us into he idea of prophetic imagination. The singing was led by the Church of the Resurrection band as well as Kiran Wimberly and the McGrath's, new strangers to the 4 Corners Festival bringing their Celtic Psalms that beautifully blend Old Testament Psalms to traditional Celtic melodies.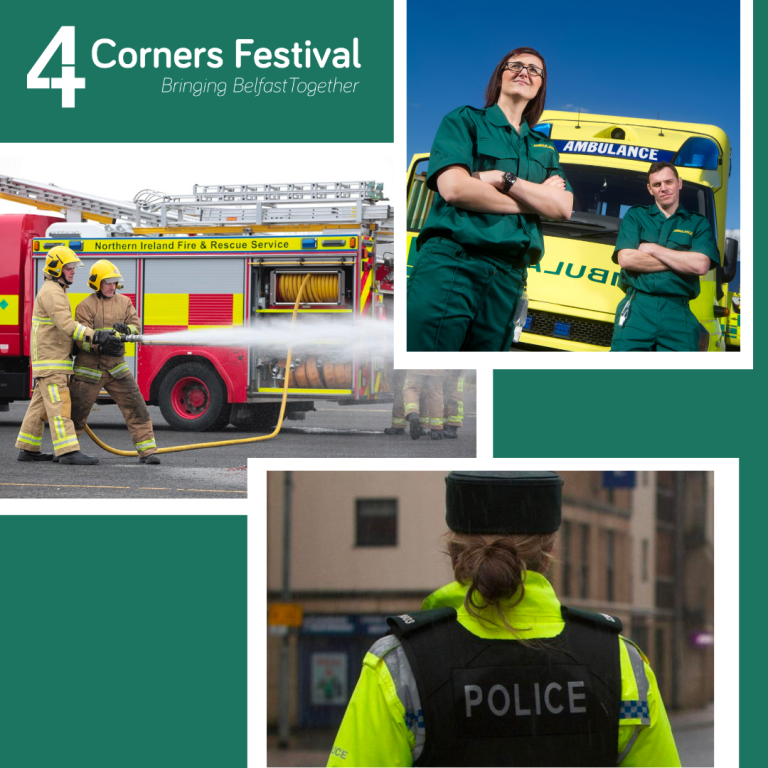 Service with the services: Building a Better Belfast Together
Forty-eight young people (aged around 16) from four youth clubs' groups: Townsend St Youth , St. Malachy's YC, St. Peter's Immaculata Youth Centre and Youth Initiatives from the four corners of Belfast with four members from the services – emergency and statutory services – ambulance, council, fire and police worked together to tidy up an area of the city unfamiliar to them.
The City Where Dreams Become Reality
Rev. Dr. Inderjit Bhogal concluded the festival with biblical scriptures that of a new holy, beautiful city where God dwells among the people, all tears are wiped away and the reign of pain and death has passed away. 
https://www.youtube.com/watch?v=9S5ApNqXNmI
If you attended the 2023 festival, we would love to have your feedback, not just for improving our festival for next year but also to share with our funders to show the impact of the festival. It's a quick survey and we would really appreciate it.
*Please note if you've attended more than 1 event during the festival we would appreciate if you could fill out a form for each.*
Leave Your Feedback